Ion-Exchange Resin for Water Softening
Softening ion-exchange resins are used to replace the magnesium and calcium ions found in hard water with sodium ions.
This resin is a polystyrene-gel type strong acid cation resin for the treatment of foodstuffs, beverages and potable waters.
All ion exchange resins require periodic regeneration with a salt solution to operate at optimum efficiency.
THE REGENERATION CYCLE
The water softener needs to run a "regeneration" cycle once a day.

The regeneration cycle starts by the softener flushing the lime off of the resin and out of the softener where it then goes down the drain.

The water softener then pulls salt from the brine tank to recoat the resin for the next filtering session.


The salt inside the brine tank is standard coarse salt which is readily available from IPS or included in the Service and Maintenance Plan. How often the brine tank needs to be refilled with salt will depend on how often you need to run the softener's regeneration cycles.

The resin can be recharged by washing it with a solution containing a high concentration of sodium ions (e.g. it has large amounts of common salt (NaCl) dissolved in it). The calcium and magnesium ions migrate off the resin, being replaced by sodium ions from the solution until a new equilibrium is reached. The salt is used to recharge an ion-exchange resin which itself is used to soften the water.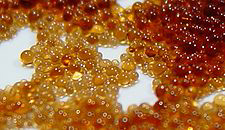 TECHNICAL INFORMATION
Polymer Structure - Polystyrene-DVB
Functional Group - R-SO3-
Ionic Form - Na+

Return to the Ion-Exchange Water Softeners Page