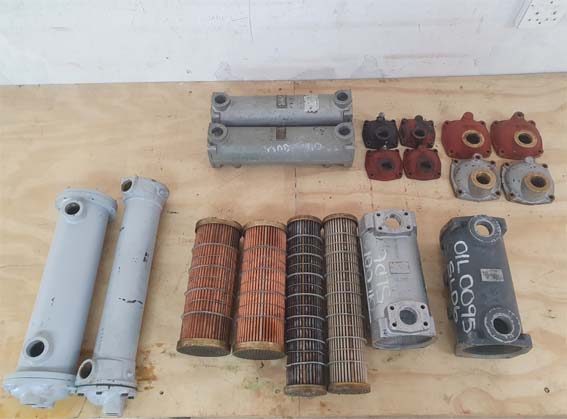 Heat exchanger repair using the following steps:
Step 1 - Removed oil cooler collected from customers factory.
Step 2 - Dismantle and Primary Inspection
Step 3 - Submerge in heated caustic tank to remove paint and oil residue.
Step 4 - Submerge in an acid tank for a 6 hour period with one of our specially formulated descalers.
Step 5 - Pressure cleaning to remove final traces of fouling.
Step 6 - Tubes polished with special round nylon or copper brushes.
Step 7 - Shell and end caps sandblasted with 60 grit blast media.
Step 8 - Boltes replaced with new high tensile or stainless steel bolts (Depending on type).
Step 9 - Replace Seals and Gaskets
Step 10 - Paint with self-etching primer and AOKI grey paint.
Step 11 - Assemble and pressure test from 2500kPa - 5000kPa (Depending on type).
Step 12 - Issue of IPS Pressure Certificate.
Step 13 - Delivery of repaired unit to customer on completion.
Step 14 - Full Service Report provided to customer with Pressure Test Certificate.

Refurbishment
We offer a professional analysis of your situation when restoring your heat exchangers and oil coolers to original design specifications.
Take a look at the Heat Exchanger Intensive Cleaning procedure undertaken by ScaleAway.
Contact us TODAY for all your servicing and repair needs!
Return to the Heat Exchanger/Oil Cooler index page
Preventative maintenance is so much more affordable than unplanned plant breakdowns and forced shutdowns, that it is hardly worth taking the gamble and risking your production commitments to your customers that rely on your factory to manufacture and deliver their commodities on their time schedule.
It makes good business sense to have built-in reliability for your clients by having a proactive preventative maintenance plan in place throughout your production facilities.
Consider descaling your heat transfer equipment a necessity to the well being and efficiency of your production.
| | |
| --- | --- |
| Contact us TODAY to purchase industrial grade descaling chemicals or to discuss a water management solution for your specific application! | |